Translate this page into:

doi:
10.1055/s-0042-1759803
Papillary Muscle Rupture following Acute Myocardial Infarction
1
Department of Cardiac Anaesthesia, Institute of Critical Care and Anesthesiology, Medanta-The Medicity, Gurugram, Haryana, India
Address for correspondence Ajmer Singh, MD Department of Cardiac Anaesthesia, Institute of Critical Care and Anesthesiology, Medanta-The Medicity Sector-38, Gurugram 122001, Haryana India ajmersingh@yahoo.com
Journal of Cardiac Critical Care TSS
Licence
This is an open access article published by Thieme under the terms of the Creative Commons Attribution-NonDerivative-NonCommercial License, permitting copying and reproduction so long as the original work is given appropriate credit. Contents may not be used for commercial purposes, or adapted, remixed, transformed or built upon. (https://creativecommons.org/licenses/by-nc-nd/4.0/)
Disclaimer:
This article was originally published by Thieme Medical and Scientific Publishers Pvt. Ltd. and was migrated to Scientific Scholar after the change of Publisher.
Abstract
Rupture of a papillary muscle after acute myocardial infarction is a rare but potentially fatal complication. It can lead to acute, severe mitral regurgitation, pulmonary edema, cardiogenic shock, and death. Immediate surgical intervention in the form of mitral valve repair/replacement with concomitant coronary revascularization can reduce mortality. We herein report such a case who presented with cardiogenic shock and made a successful outcome after emergent surgery.
Keywords
cardiogenic shock
myocardial infarction
papillary muscle rupture
Introduction
Papillary muscle rupture (PMR) is a rare complication of myocardial infarction (MI) occurring in approximately 0.25% of the general population.1 Acute PMR can lead to decompensated mitral regurgitation, pulmonary edema, cardiogenic shock, and death. Without emergency surgical intervention, most patients die within the first week.2
Case Report
A 47-year-old male presented to the emergency room of our institution after worsening of breathlessness over the last 5 to 6 days. He had a history of chest pain 1 week ago. Physical examination revealed a heart rate of 110 beats/min, blood pressure 80/56 mm Hg, respiratory rate 32/min, peripheral arterial saturation 86%, bilateral crepts, and apical pansystolic murmur. Electrocardiography was consistent with anterolateral ST elevation MI, troponin-I was 5.45 ng/mL, and chest X-ray was suggestive of pulmonary edema. Transthoracic echocardiography (TTE) showed anterolateral PMR with flail anterior mitral leaflet causing severe mitral regurgitation. In addition, there was akinesia of the mid-anterior septum, mid-anterior wall, and apex, an ejection fraction of 40%, and severe pulmonary hypertension. The patient was stabilized with noninvasive ventilation, intra-aortic balloon pump(IABP) support, and norepinephrine infusion at 0.2 µg/kg/min. All laboratory diagnostics including renal parameters were normal. The next day, left heart catheterization was done which revealed severe triple vessel coronary artery disease. The patient and the family were counseled for urgent surgical intervention (combined mitral valve replacement and coronary revascularization) and informed consent was obtained.
Intraoperative monitoring consisted of standard ASA monitors along with transesophageal echocardiography (TEE) and pulmonary artery catheterization. TEE confirmed the findings of preoperative TTE and showed a mobile mass representing a ruptured papillary muscle head prolapsing into the left atrium during systole causing severe mitral regurgitation (Fig. 1, Video 1) and flail A3 scallop of anterior mitral leaflet (Video 2). During surgery, the anterolateral papillary muscle was found to be completely ruptured (Fig. 2). The mitral valve was replaced with a 25 mm St Jude SJM mechanical valve. Left anterior descending and obtuse marginal arteries were bypassed. Aortic cross-clamp time was 65 minutes and cardiopulmonary bypass time was 102 minutes. Tracheal extubation and IABP removal were done on postoperative day 1 and 2, respectively. The subsequent stay of the patient in the hospital was uneventful, and he was discharged on 12th postoperative day.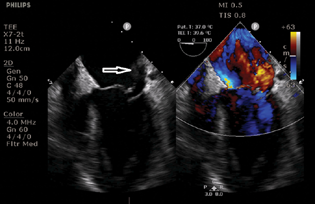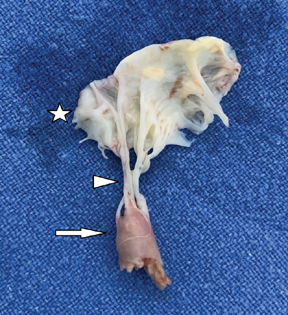 Discussion
Mechanical complications of MI such as ventricular free wall rupture, ventricular septal rupture, and PMR typically occur between 2 and 7 days of MI. Suspicion of PMR should be considered in patients following the first week after MI with sudden acute heart failure symptoms.3 Other possible etiologies of PMR include infective endocarditis, trauma, syphilis, periarteritis nodosa, vegetating valvulitis, myocardial abscess, iatrogenic, and cocaine use. Compared with posteromedial papillary muscle, rupture of anterolateral papillary muscle is less common (25 vs. 75%).4 The difference has been explained based on fundamentally better circulation to the anterolateral papillary muscle than to the posteromedial. Asymmetric distribution of blood supply accounts for the rare involvement of the anterior papillary muscle that is perfused by both the left anterior descending coronary artery and marginal branches of the circumflex artery. In addition, the tension exerted by the chordae on this papillary muscle is relatively low due to its superficial location in relation to the annulus. Conversely, the posterior papillary muscle is more sensitive to ischemia (91% of the cases in a series by Nappi et al) because of its single blood supply.5
TTE or TEE may demonstrate a flail mitral valve leaflet with prolapse during systole into the atrium, visualization of a "swinging" papillary muscle head with erratic movements in the ventricle, or a mobile mass attached to the chordae tendineae. The sensitivity of TTE and TEE for the diagnosis of PMR has been reported between 65 to 85% and 92 to 100%, respectively.6 The natural history of post-MI PMR is extremely unfavorable under medical treatment alone. Partial PMR is also considered a surgical emergency as most of the cases will progress to complete rupture.7 The cornerstone of treatment for PMR includes emergency surgical treatment. Initial medical therapy can be instituted with diuretics, afterload reduction, oxygen therapy, noninvasive ventilation, or mechanical ventilation. IABP support may be necessary for severely unstable patients or those in cardiogenic shock, such as this patient. The use of IABP is preferred over inotropic agents that can cause increase in myocardial oxygen demand and may aggravate myocardial ischemia. Concomitant coronary artery bypass surgery has been shown to reduce the mortality and should be done. The decision to repair or replace the mitral valve depends on the condition of the papillary muscle tissue. A valve replacement is a better option in the presence of friable, necrotic tissue. Suboptimal outcomes following valve repair have been caused by prolonged cross-clamp times, suturing into friable necrotic tissue, and tissue remodeling after infarction. Although mitral valve repair may improve outcome due to a better preservation of postoperative left ventricular function, mitral valve replacement is generally preferred in hemodynamically unstable, high-risk patients.3
In conclusion, acute PMR and secondary valvular regurgitation should be considered in any patient presenting with acute pulmonary edema or cardiogenic shock, especially in the days following acute MI. Mortality can be substantially reduced with rapid diagnosis and referral for valvular repair or replacement and revascularization.
Conflict of Interest
None declared.
Show Sections